Mod 3 , Part 2- Principles of User Experience with Prof. Bjorn Akselsen
What is an empathy map? I have created empathy maps in planning software and applications. The Nielsen Norman Group states empathy maps are helpful because "visualizing user attitudes and behaviors in an empathy map helps UX teams align on a deep understanding of end users. The mapping process also reveals any holes in existing user data". I have to agree. In addition , empathy maps are useful in testing. They add a dimension of qualitative data to the findings. These are helpful for developers to put their code solutions in context.
Empathy maps can be simple or have some creative flair, but they all adhere to the same structure. The focus is on one individual and recording or inferring what they are experiencing as they use your product, service or interact with an environment. The categories broken into quadrants in the composition try to answer these most commonly asked questions: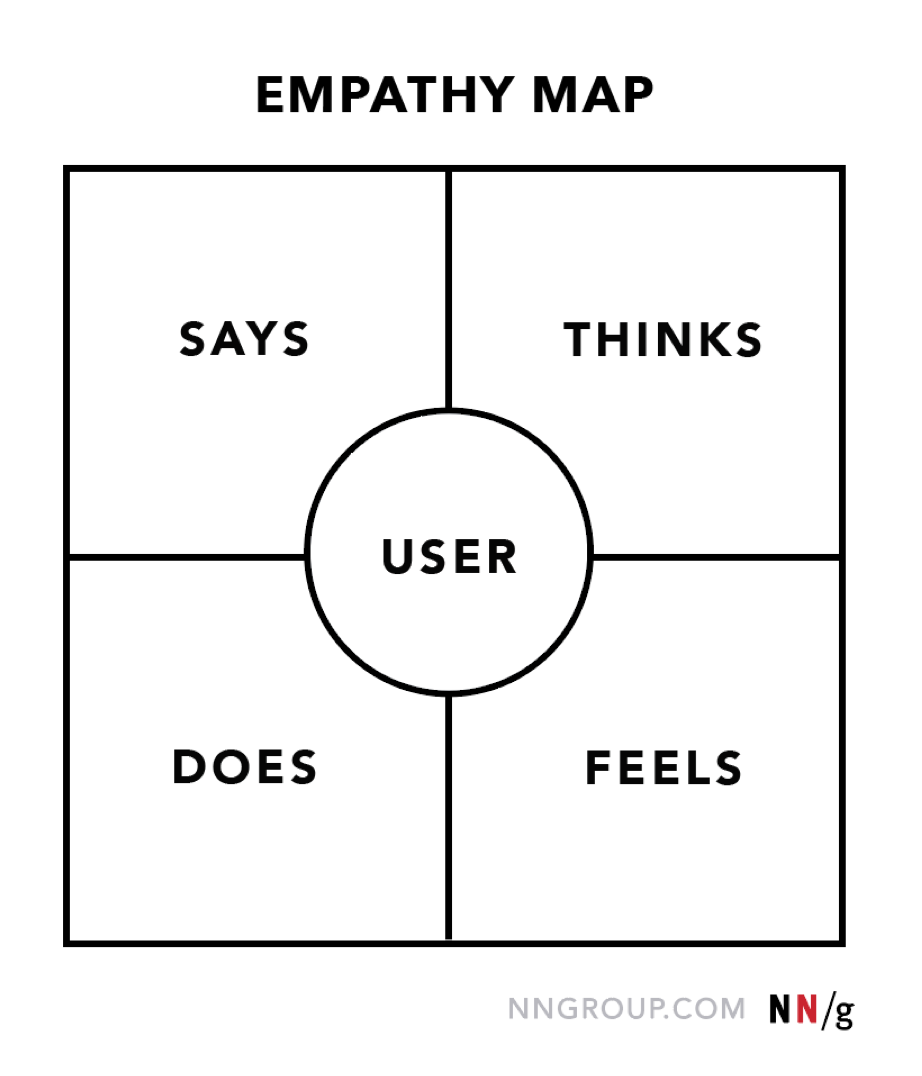 THINK AND FEEL
What would the user be thinking & feeling? What are some of their worries and aspirations?
HEAR
What would their friends, colleagues, and bosses be likely to say while the user is using our product? What would the user hear in these scenarios?
SEE
What would the user see while using our product in their environment?
SAY & DO
What might the user be saying and/or doing while using our product? How would that change in a public or private setting?
PAIN
What are some of the user's pain points or fears when using our product?
GAIN
What gains might the user experience when using our product?
The Empathy Map Exercise
I chose VIVINT because i am currently a customer and wanted to learn more about the service I use to protect my property. Watching the " Undercover Boss" episode reminded me of my own installation date and how late the service technician stayed. It made me wonder. I am quite satisfied with the VIVINT service and can see why they have become such a successful company.
Feeling a sense of ownership and responsibility as the founder of VIVINT, Todd Pederson was very generous and provided life changing gifts to these employees. I believe there was also an underlying sense of gratitude for their efforts and the insights they gave him into improving the business. This seemed more effective than third party report compiled by a consultant firm and as equally valuable. The production is also beneficial, as it portrays and introduces VIVINT as a progressive company lead by compassionate human beings. 
It is also refreshing to see a U.S. based company selling solar and quality electronic products thrive in such a competitive marketplace. The CEO's feeling of disconnection from the daily lives of his employees must be commonplace in the leadership of large companies and I respect that he is still involved enough to even care. This sense of separation must be multiplied when the companies are global businesses with tens of thousands of employees across different countries, languages and cultures. This makes empathy studies even more critical to management and operations.
Please see my VIVINT Inc. "Empa-graphic" below.
Download the VIVINT "Empa-graphic" in .PDF format

---
Resources & References
Empathy Mapping: The First Step in Design Thinking. (2019, September 15). Retrieved from https://www.nngroup.com/articles/empathy-mapping
What Is an Empathy Map? (2019, September 15). Retrieved from https://www.solutionsiq.com/resource/blog-post/what-is-an-empathy-map
Smyk, A. (2019). How to Design Empathy Maps to Better Understand Your Users. Adobe Blog. Retrieved from https://theblog.adobe.com/how-to-design-empathy-maps-to-better-understand-your-users
Seo, G. T. (2017). Empathy Maps – what and how? | Good To SEO. Good To SEO. Retrieved from https://www.goodtoseo.com/empathy-maps-what-and-how
UX PROCESS AND EXAMPLES-(UX for the masses). (2019, September 14). Retrieved from https://yanfeiwang.weebly.com/blog/ux-process-and-examples-ux-for-the-masses
Boag, P. (2017). Adapting empathy maps for UX design. Boagworld – User Experience Advice. Retrieved from https://boagworld.com/usability/adapting-empathy-maps-for-ux-design
Mod 3 – Empathy Map Notes. (2019, September 14). Retrieved from https://docs.google.com/document/d/1mQpq-J0f7mHcEIKsqUckEehQrxpxCQbUMqSV-gLsslw/edit
---
Recent Posts from the Graduate Series:
---